Subject: spray paint
To: lopati0@lycos.com
i don't know when it happened,because i didn't ask.i won't know if they did not come to tell me.I would imagine the boy next door, Kastilano's boy took his dad paint in the garage and playing with his friend from his next door,decided to write something in the wall,all they wrote in the wall is their names and lines.the boys must be in first or second grade.yesterday i saw his dad repainting the walls but our birch trees and some of our pathway gravels are still with blue paints,it seems he did not do in our sides,i wonder soap and water will remove the paints. superball 35 was horrible,no action,not match up to the games, borring,so i turned it off and wrote you the e -mail.lately have you talk to grandma? talk to you again mom.
Tuesday, January 30, 2001
wanting to know who my fellow comrades are in support of the public netbase :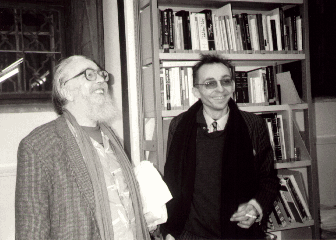 on cognitive liberty (part I)
As we frantically race into the third millennium, with microprocessors becoming faster, cheaper, and smaller, with surveillance cameras proliferating in public spaces, with the human genome program about to issue its first "working draft" of the human DNA sequence, and with an out-of-control Frankensteinian machine named the War on Drugs, all awhirl in the ocean of modern day culture, it is imperative that we, as a society, expressly acknowledge the fundamental human right to cognitive liberty and immediately begin to define its contours.
on cognitive liberty (part II)
As you read this sentence you are receiving information. Words are carriers of thoughts, whether spoken from mouth to ear, digitized and passed electronically, or downloaded into ink and passed on paper across time and space. Because words are vehicles for thoughts, words can change your opinion, give you new ideas, reform your worldview, or foment a revolution.
btw, ptypes has assembled an impressive array of articles on sociobiology/evolutionary psychology.
also, j. bradford delong reviews mark mazower (1998), dark dontinent: europe's twentieth century.
Mazower looks at Austria, where "the Freedom Party under Joerg Haider's leadership rose on the back of the immigration issue." What was their cause? That "'Vienna must not become Chicago'... a curiously 1930s view of America, which bore out how little attitudes on race had changed across much of Europe in half a century..." (page 348). The Darknesses that shrouded Europe for much of the twentieth century have been blown away. But only a naive optimist would claim to know that they--or their siblings--will not return.
Monday, January 29, 2001
an amaryllis instead
so i got an amaryllis
from a poet
and soccer player
a bulb in a pot
it shot right up
that's what it is to share
Sunday, January 28, 2001
a redaction of the heraclitan fragments by harvey wheeler
Heraclitus tells us that he is interested in explaining the "nature of words and things." This is the first meaning he gives for logos, the more fundamental reality lying behind appearances which takes the place of the Homeric gods. One understands the logos by pursuing what is "universal," rather than what is particular ("private.") If one considers only particular appearances there would be no way to distinguish the width of the sun from the width of a human foot; the contentment of a ruminant from the happiness of man, rightly understood. Understanding is to the logos as ritual is to the gods. Through true understanding we know things deeply rather than knowing merely our superficial experiences of them. For example, we see that things that appear to be opposed to each other are actually manifestations of a profound principle of unity. This applies to words as well as to things. Conflict provides the path to unity; controversy provides the path to the understanding of the One. Conflict, as it applies both to things and to words, leads to the One. The system of Heraclitus is to the realm of reason as the mystery cults are to the realm of the emotions.
top secret diary of mary chen by mary chen
So anyway... I don't normally talk about anything too incredibly personal up here just because, even though it's top secret, i've found that sometimes people sneak in and read it, which is so lame but whatever, I am too suave and sophisticated to let it bother me.
But there's this somewhat personal thing that happened, this event, it's more like... this story happened, i lived through this story, and it's such a good story that i can't NOT tell it, but it's more personal than the stuff I usually put up here in my very private top secret diary, so... I suppose that makes this a special entry. So I hope you enjoy it, you nosey bastard.
wasabi toothpaste! [(via bubble chamber!) via missingmatter :]
HONOLULU, Dec. 14 - Wasabi, the pungent green horseradish served with Japanese sushi, has been found to afford yet another health benefit: it could prevent tooth decay. The finding was presented here today at the 2000 International Chemical Congress of Pacific Basin Societies.
The weeklong scientific meeting, held once every five years, is hosted by the American Chemical Society in conjunction with its counterparts in Australia, Canada, Japan and New Zealand.
Hideki Masuda, Ph.D., director of the Material Research and Development Laboratories at Ogawa & Co., Ltd., in Japan, reported that isothiocyanates - chemical compounds found in wasabi - inhibited the growth of Streptococcus mutans, the bacteria that cause dental caries [cavities?], during test-tube studies.
Saturday, January 27, 2001
http://www.metafilter.com/comments.mefi/5480
metafilter thread on prison rape
http://slashdot.org/articles/01/01/25/2241230.shtml
slashdot thread on tech unions
http://us.imdb.com/CommentsShow?0092316
imdb thread on "amerika" (1987)
Friday, January 26, 2001
after dev null pointed out the cyranoid i went looking for biff henderson on the internet. here is what i found.
also searched for philip zimbardo, the psychology professor who had that great series on PBS. the stanford prison experiment has its own website.
carey asks, where's the follow through?!
um, i dunno. but here's Mr Tickle interloping into the mind of M. C. Escher.
Thursday, January 25, 2001
background on mirror neurons
jack and i were talking about the ending of the sixth sense last night (i haven't actually seen it, tho) and how it works better than other "surprise" endings like unbreakable, get shorty, the usual suspects, brazil and maybe even psycho. we figured it has to do with the degree of empathy you feel with the character(s). anyway, you realize bruce willis' situation the same time he does. there's no distance. you're thinking what he's thinking, feeling what he's experiencing. it's like you have privileged access to his thoughts and emotions as he goes through an amazing revelation, which i guess is what good movie making/story telling is all about. it's just kind of weird how easily we sometimes identify with one another or what's on the screen.
yahoo most-viewed rocks. dreaming rats and the guy who stapled his head after he cut his hand off is so awesome.
pretty! (via zen calm ink :)
Wednesday, January 24, 2001
check it out! edward teller on science and morality!! (via arts7letters) it's part of science magazine's essays on science and society. they also had an essay by angela merkel (now head of the CDU) on science and sustainable development, which was really cool.
here's an article on rooftop gardens being used as natural insulation to reduce energy demand in tokyo. (via robotwiz) mayor daley in chicago is also experimenting with rooftop gardens along the same lines. in the building i used to work in i could look out the south windows and see them building on city hall.
also check out sustainable farming (via scitech) in newsci. the next stage of the green revolution?
***
Superior Climate for Organics Attract
U.S. Investors to Baja California's Tip
By JOEL MILLMAN
Staff Reporter of THE WALL STREET JOURNAL
BOCA DE LA SIERRA, Mexico -- Thousands of feet above sea level, far from any paved road, lies some of the cleanest farmland in North America; perhaps the perfect place to satisfy the world's growing appetite for organic fruits, vegetables and herbs.
"It'd be hard to find a more pristine environment anywhere," says John Graham, a buyer for an organic agribusiness, as he maneuvers his four-wheel-drive vehicle along muddy tracks.
Or one more remote. Lying a thousand miles south of the U.S. border, the tip of the Baja Peninsula seems an unlikely link in the American food chain. But, thanks to a diversity of climates and year-round sunshine, the region is attracting bushels of U.S. investment as agro-entrepreneurs race to keep up with demand for chemical-free vegetables and fruits that has grown 25% a year for nearly a decade.
U.S. consumers will buy $8 billion worth of organically grown produce this year, more than $1 billion of which will be raised in California. And the organic boom in the leading agricultural state has become a boon for Mexico's California as well. Baja California is home to hundreds of small, family-owned farms now growing organic produce, and provides California's top organic growers with what amounts to a second summer each year, between November and March.
That season is in full swing here in the Sierra San Lorenzo mountains just north of Cabo San Lucas, one of Mexico's trendiest beach resort towns. High above the golf courses and $400-a-night rooms, buyers like Mr. Graham search for produce reaching the peak of its flavor. Scraping past the golden halos of sunflower blooms and the low-hanging boughs of a mango orchard, Mr. Graham, a production manager for the organic agribusiness Jacobs Farm, in Pescadero, Calif., threads his way toward a one-acre field tended by Anselmo Burgoin, an organic farmer here for about 14 years.
"Now that," says Mr. Graham, as heavy vines of cherry tomatoes and rows of fresh basil come into view, "is a beautiful farm."
Organically grown food, though it accounts for only a fraction of the $6 billion worth of agricultural produce Mexico exports to the U.S. each year, is becoming an important niche for Mexican farmers. And with last month's publication of the first USDA standards for labeling organic meats and produce, exports may increase further as the farmers find it easier to follow regulations.
The U.S. Department of Agriculture, which collects data on Mexican as well as U.S. farming, does not distinguish between traditional and chemical-free foods exported from Mexico. But there are plenty of indicators of Mexico's growing participation in the organic market. A USDA report on Mexico's organic-farm movement published last year noted that the amount of acreage certified as chemical-free more than doubled from 1996 to 1998, to more than 50,000 acres nationwide. The same report estimated that about 28,000 farmers were exporting $70 million worth of organic products annually. Most of that produce goes to the U.S. -- making Mexico one of the U.S.'s largest offshore providers of such crops -- and to Canada, Europe and Asia.
As the USDA numbers suggest, organic farming in Mexico is still the province mostly of small, family-owned farms, many of them in places such as Baja that had been considered too remote to attract the interest of modern, mechanized producers. But for the few larger California-based growers, such as Earthbound Farms, that isolation translates into an opportunity no longer available north of the border.
"Our company was growing so quickly, we needed more organic acreage," says Myra Goodman, who founded Earthbound in 1984 in San Juan Bautista, Calif., with her husband, Drew. "But it's hard to find good ground that hasn't been farmed conventionally."
It's also difficult finding land far enough away from other farms for organic growers not to worry about other farmers' chemicals drifting into their fields on the wind, or leaching into the water underground. Three years ago, Earthbound acquired 1,600 acres near the Mexican town of Erendira, 150 miles south of San Diego. About 1,200 acres were certified organic by an outside testing facility that determined no chemical fertilizers or pesticides had been applied for at least three years. Earthbound "transitioned" the remaining acreage to certified organic over the next three years by producing crops on it without using chemicals.
Another California farmer, Sam Bekisch, found land north of Loreto, on a ranch he was able to certify organic almost instantly. "It had been out of production since 1983," the 44-year-old Imperial Valley native says. "And the closest ranch is 15 miles away."
Mr. Bekisch notes that to compensate for the high freight costs he pays to truck his organic melons some 600 miles to San Diego, he shops for cheap supplies close by. One source of fertilizer is a seafood processor, which is delighted to have Mr. Bekisch haul off five tons of squid entrails each week to mix into his compost. Mr. Bekisch also uses goat manure, a natural fertilizer he helps produce by feeding goats any melons he can't sell.
Jacobs Farm, rather than buy land and farm it itself, has taken a different approach. Since 1985, when founder Larry Jacobs first visited Baja, he has worked with agronomists like Mr. Graham to organize more than 170 subsistence farmers into a marketing co-operative. The co-op, known as Productos Organicos Del Cabo Inc., financed the construction of several packing sheds and continues to sell seed, compost and tractors at wholesale prices to many families that otherwise couldn't afford them. More important, the co-op provides the Mexican farmers access to a growing international market they previously ignored.
"Before, we grew corn and beans, and we sold everything to Conasupo," says the 41-year-old Mr. Burgoin, referring to Mexico's state-operated commodities broker. "Now everything we raise is exported, for dollars."
Mr. Burgoin's earnings on his one-acre plot are modest at around $4,000 a year. The average annual income for the cooperative's members is $15,000, with some farmers earning $70,000 to $80,000, a substantial sum in a region once considered among Mexico's poorest. The co-op also employs about 100 workers in the packing sheds, where mostly teenage girls earn as much as $20 a day sorting tomatoes and bundling herbs. The sheds' main competition for workers: the resorts on the coast, which pay chambermaids and waitresses marginally more, but require a long bus trip to town.
Tourism thus may take away some available labor, but it also provides the farmers with something crucial: air cargo space. Thanks to the growing number of U.S. airlines flying vacationers to Cabo San Lucas, farmers in Boca de la Sierra and many neighboring villages can ship their produce quickly to markets on the many return flights. Basil, mint and thyme constitute about 80% of the cargo hauled out of Baja by Alaska Airlines -- more than two million pounds last year -- on five flights a day between San Jose del Cabo and California. The airline's inexpensive return-freight rates allow the Del Cabo cooperative to get its produce to U.S. markets faster than organic growers in Chile, Israel and the Caribbean -- usually within hours of being picked.
For a few locals, going head to head with some of the world's best produce companies still takes getting used to. "I sometimes imagine my food could be flying off to anywhere," says Mr. Burgoin, whose one-acre plot is a good deal smaller than many of the restaurants where his basil, tomatoes and eggplants are served. "It's quite a miracle."
Tuesday, January 23, 2001
pullquote off the ironminds weblog
"Optimism is not necessarily blind. It is neither weak nor naive. It can be tough and pure and earned just as clearly as any brooding existential despair. There are some people -- and not many -- in whom optimism is clearly pragmatic, a means to tangible success. ... Some people are people of promise, and they see it for themselves as clearly as other people see it in them, and they realize that they must move toward it and that, if you're running toward something, you're never really running away."
pullquote off sensible erection
"On the street outside the club I saw three boys in plaid shirts. I'd noticed them on the way in. They were moving slowly now, hands in their pockets, their heads down -- nothing moves more slowly than a perfectly healthy young man with no girl and no more ideas at the end of the night. But there's community in that, right? In being miserable together. One guy leaned over, his shoulder sagging, and stared at something on the sidewalk for a long time. You learn a lot about life when your dreams don't come true, when nothing works out the way you planned."
Monday, January 22, 2001
how to live a lie (via arts7etters)
Jean-Claude Romand started lying in his second year of medical school. Or perhaps it was earlier than that, though 'lying' is not what he would have called it. He grew up in a family which placed a great deal of emphasis on honesty, and yet white lies were common currency - emotions were dangerous, and harsh truths might hurt. But at medical school something more serious was set in motion. He was dumped by his girlfriend, Florence, and, depressed, he failed to turn up for his end-of-year exams. He had the whole summer to admit this, but he said the exams had gone well. And when the results were posted up, he told his parents and friends that he had passed. None of the other students noticed this wasn't true. For the next 12 years he enrolled in the second year over and over again, while reading the same books his friends were studying and pretending to graduate alongside them. Academically, he could proceed no further, but again, no one suspected anything.
At some point, love-sick over Florence, he told people he had cancer. She came back to him immediately, but none of his doctor friends thought to inquire further about his illness. Later the couple were married, Florence passed her thesis in pharmacology, and Romand invented for himself a high-flying job.
They had two children, and moved, along with some of their university friends, to a town near the border with Switzerland. Romand had to be there because he was, he said, a research scientist at the World Health Organisation (WHO) in Geneva. In fact he spent his days alone in his car, reading books and magazines and spent nights in hotels when he thought it was appropriate to be away on business. He did go to the WHO sometimes, and roamed the ground floor, where he took money out of the cashpoints, posted his letters and booked holidays through the WHO travel agent. He never ventured upstairs to the offices, but he stole stationery and bits and pieces of WHO-branded equipment. He even got hold of a photograph of the building, which he gave to his parents to put on their wall, marking it with a red 'X' to indicate where his office was.
btw...
The Word of the Day for January 22 is:
hyperborean • hye-per-BOR-ee-un or hye-per-buh-REE-un • (adjective)
1 : of or relating to an extreme northern region : frozen
*2 : of or relating to any of the arctic peoples
Example sentence:
"In the winter of '46-7 there came a hundred men of hyperborean extraction swoop down on to our pond one morning.... they came and went every day... from and to some point of the polar regions, as it seemed to me, like a flock of arctic snow-birds.... " (Henry David Thoreau, Walden)
Did you know?
In ancient Greek mythology, the "Hyperboreoi" were a people who lived in a northern paradise of perpetual sunshine beyond the reaches of the god of the north wind. Their name located them within the Greek world; it combined the prefix "hyper-," meaning "above," and "Boreas," the Greek name for the north wind. When "hyperborean" first appeared in our language in the 15th century, it named those legendary folk. By the late 1500s, though, the word was being used more generally for anything relating to the far north or the people who lived there. (Incidentally, the "Hyperboreans" who came to Walden Pond were, Thoreau tells us later in the passage, "literally, a hundred Irishmen, with Yankee overseers, [who] came from Cambridge every day to get out the ice.")
*Indicates the sense illustrated in the example sentence.
i also like noblesse oblige : the obligation of honorable, generous, and responsible behavior associated with high rank or birth. like when could you ever use that word and not sound like a jackass? in your private thoughts i say.
Sunday, January 21, 2001
hey, i was watching tv yesterday (blazers v. kings, psycho and tommy) and then i was flipping around and never cry wolf was on! i forgot how good that movie was. like the one scene where he's running around naked helping these wolves hunt caribou!! and he plays a bassoon. so awesome. brian dennehy is in it, too :)
Saturday, January 20, 2001
topical compilation
apocalyptic/post-apocalyptic/nuclear holocaust movies:
the day after (one of the best if just for the shot of twin mushroom clouds in the same frame, a cinematic first!)
testament (w/ kevin costner :)
on the beach
atomic cafe
a boy and his dog (w/ don johnson :)
the rapture (literal interpretation of the apocalypse, w/ david duchovny)
akira (tetsuo!)
grave of the fireflies
delicatessen (part of film society's cannibalism week :)
la jetee
oh hey, almost forgot fail safe and dr. strangelove
oh and day one is awesome, too (w/ brian dennehy :)
checkin out the imdb, these looked pretty good too:
music of the spheres http://us.imdb.com/Reviews/02/0226
threads http://us.imdb.com/CommentsShow?0090163
ladybug, ladybug http://us.imdb.com/CommentsShow?0057242
these books are also good:
swan song, robert r. mccammon (featuring a pro-wrestler and magic mutant scabs that cover your head!)
the stand, stephen king (i've actually never read any of his books, but the tv movie series was alright)
the postman, david brin
earth, david brin
everville, clive barker
the harvest, robert charles wilson
z is for zachariah, robert c. o'brien (newberry honor book?)
oh yeah and galapagos, kurt vonnegut :)
and assemblers of infinity, kevin j. anderson and doug beason (nanotech thriller!)
no comics cuz almost every other one fits the genre. well age of apocalypse, which was way over the top – nightcrawler teleporting off with heads and fingers, multiple man "pokking" inside of other people, etc…

essay : truly a cloud, paul ford
http://ftrain.com/archive_ftrainthree_11.html
These fantasies please me in their awfulness; they have all the drama my life lacks. The threat of nuclear war, the way it was approached in film and books, showed the monsters under our skin, the way that men in suits could kill with a gentle touch. The word that followed nuclear was often "holocaust," invoking the defining event of our century, when human efficiency and order were applied to genocide; the nuclear holocaust had echoes of the earlier one, shades of scientific expertise gone insane. Oppenheimer's haunted stare; Edward Teller wish that we might send nuclear bombs to the sun; Truman's statement from behind the desk after Hiroshima, August 6, 1945. By the time I was born the consequences of the actions of these men were a birthright, part of being American.

Friday, January 19, 2001
dense matter (via most-viewed)

i think this was the experiment where the brookhaven RHIC people had to do a press release/conference thing telling everyone there was no need to worry about them destroying the universe. the stuff i read was about the creation of some ice-9 type reaction (more stable form of quark-gluon combination than protons and neutrons?) that would "freeze" everything into an undifferentiated mass of goo. kinda reminded me of this douglas adams quote :
"there is a theory which states that if ever anyone discovers exactly what the Universe is for and why it is here, it will instantly disappear and be replaced by something even more bizarre and inexplicable.

"there is another theory which states that this has already happened."
Men are driven deeper and deeper inside themselves for materials of replenishment. . . . For there is no escape anywhere. You are hemmed in on every side by your own inadequacies and the crowding measures of your associates. The ones who survive with a measure of happiness are those who can live profoundly off of their intellectual resources, as hibernating animals live off their fat.
Thursday, January 18, 2001
hey it's the stash, lotsa stuff! (via jeff and carey) jeff liked the dildo commercial :)
also babemonster (via andrew from awhile ago :) i like the republic series. two parts so far!
Wednesday, January 17, 2001
lee kuan yew quote in the IHT
"Before you can have a working democracy, you must have an educated population and a fair-sized middle class that will provide a ballast for society... The problem is how to change, but changing cultures and values is not easy."
slick interface! also talks about how NMD (or TMD or whatever) changes the power dynamics in asia (possibly leading to an elusive russia-india-china trifecta?). btw, watching c-span on MLK day there was a panel of journalists talking about race in america (nytimes series?). one thing that came up (besides david halberstam getting all the audience questions :) was how journalists didn't know how to cover class. like after you get a salary or a regular paycheck and everything you're part of a different world. aside from the occassional notebook lost on the sidewalk by an opinionated*, self-aware, streetwise junkie (like finding martian rocks in antarctica :) some things just cannot be "reported" on... well, at least. you have to be a scientist to figure it out!
*and racist (but mitigated by her honesty like fyvush finkel on boston public?)
there was also this article by john kay on human geographies and development in the FT. tony linked to a great article, too, from the globe and mail on the new highway between beijing and shanghai. oh, and for all you sinophiles out there, missingmatter links to zhongwen.com - chinese characters and culture. learn chinese! i never could. there was also this link to lingua franca on large numbers (not the law). like i've kind of been wondering about numbers indicative of position as opposed to quantity. for example, you'd think a random number generator would have no problem picking a number with a billion digits one moment and then a single digit number the next... or a thousand, or a kazillion. one number would be just like any other number, but are they? when a number invokes quantity or measurement all of a sudden it becomes an affordance (to borrow a design term :) each one with a unique quality and identity. only in a featureless universe of coordinates is one number absolutely like another... to infinity. i think it bears remembering that when humans are asked to pick a random number, it is usually something less than a gajillion. anything more is quite meaningless!
site redesign brought to you by the hidden question :)
Tuesday, January 16, 2001
how can they do that?
J. Sainsbury, a standard-bearer of sturdy English middle-class values, is considering selling its supermarket business in Egypt, a little more than a year after its first store opened.
The supermarket chain may be withdrawing from Egypt, despite having worked its way into the affections of ordinary Cairenes and belated blandishments from the government.
If the idea of Sainsbury setting up in Egypt in the first place seems an unlikely proposition - it was the pet project of one former board member - the fact that it may be selling up so soon is also surprising. Against the odds, it has opened more than 100 shops in Cairo since it arrived in September 1999, and employs more than 4,000 Egyptians. It has survived attacks on its stores and a boycott.
Eschewing the upmarket vision, it went for a wider market approach, targeting lower-middle class neighbourhoods and prosperous suburbs alike. It went for market share by undercutting the competition.
Cairo, the only city in which Sainsbury has opened stores, and other Egyptian towns had been dominated by small, upscale supermarkets catering to foreigners and upper-class Egyptians and by traditional grocery stores - ba'ala - on every corner.
"What the hell do they expect us to do if someone gets an unexpected technology jump, or there's a bad run of crash-damaged chassis?" said one executive.
"Do they really think we're going to say, 'oh gosh, we'd love to catch up or be in the race, but we can't because those guys in Brussels say we mustn't work too many hours?'"
It is this ethos, coupled with a high level of intuitive engineering skills and a rapid rate of innovation, that has led to the UK's world dominance of the industry, the study concludes.
According to its researchers from Cranfield, charged with examining the sector's "best practice" attributes, "while many firms in other industries see research, development and innovation as separate activities [from the mainstream business], for these firms it is taken for granted as an integral part of the day-to-day routine".
The result has been an industry that produces 75 per cent of the world's single-seater racing cars from manufacturers such as Reynard, Lola and Van Diemen. It dominates world championship rallying through companies such as Banbury-based Prodrive, and many of its companies - such as Ilmore and Ricardo - are the real design and engineering force behind the competition vehicles of Mercedes-Benz, Ford, Mitsubishi and others.